Welcome to my World of Monchhichi!

I started to collect these cute monkeys, when I was 11 years old.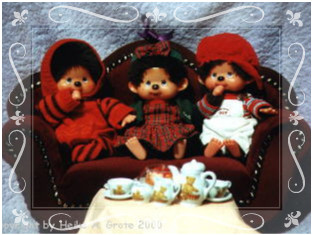 The three friends above are my first Monchhichis.
They belong to the original generation, because of their blue eyes.
The most standard Monchhichis today have brown eyes.
Are you also a friend of those little monkeys?
I am always happy to get from other Monchhichi-fans.
Well, make yourself comfortable.
Sit down and take a little time to surf through this site.
I had many fun while collecting all the photos and pictures for you.
I hope, that you will have a good time with it.
CONTENT






My Monchhichi facebook page





Dear Monchhichi-fan here youŽll see a lot of photos which I took from my Monchhichis.
I am happy to share them with you. The most Monchhichis are dressed originally like from the manufacturer Sekiguchi.
But some special Monchhichis wear a unique clothing which you will only find on my homepage.
In those cases the dress is My Own Creation. I use self knitted clothes or dresses which are from other doll manufacturers.
The Monchhichis are often dressed in asian costumes.
I am always interested in the meaning of those asian dresses and I try to describe them on the websites where they appear.
I mark them with the word Description. I hope you will enjoy them.

The Photo Gallery begins with the oldest photos (No.01) which I made in the year 2000.
A Sneak Preview of the Photo Gallery :