'].join(""));return c.join("")}var g="object",m=true;try{var j=i.description||function(){return(new i("ShockwaveFlash.ShockwaveFlash")).GetVariable("$version")}()}catch(p){j="Unavailable"}var e=j.match(/\d+/g)||[0];f[h]={available:e[0]>0,activeX:i&&!i.name,version:{original:j,array:e,string:e.join("."),major:parseInt(e[0],10)||0,minor:parseInt(e[1],10)||0,release:parseInt(e[2],10)||0},hasVersion:function(a){a=/string|number/.test(typeof a)?a.toString().split("."):/object/.test(typeof a)?[a.major,a.minor]:a||[0,0];return k(e,a)},encodeParams:true,expressInstall:"expressInstall.swf",expressInstallIsActive:false,create:function(a){if(!a.swf||this.expressInstallIsActive||!this.available&&!a.hasVersionFail)return false;if(!this.hasVersion(a.hasVersion||1)){this.expressInstallIsActive=true;if(typeof a.hasVersionFail=="function")if(!a.hasVersionFail.apply(a))return false;a={swf:a.expressInstall||this.expressInstall,height:137,width:214,flashvars:{MMredirectURL:location.href,MMplayerType:this.activeX?"ActiveX":"PlugIn",MMdoctitle:document.title.slice(0,47)+" - Flash Player Installation"}}}attrs={data:a.swf,type:"application/x-shockwave-flash",id:a.id||"flash_"+Math.floor(Math.random()*999999999),width:a.width||320,height:a.height||180,style:a.style||""};m=typeof a.useEncode!=="undefined"?a.useEncode:this.encodeParams;a.movie=a.swf;a.wmode=a.wmode||"opaque";delete a.fallback;delete a.hasVersion;delete a.hasVersionFail;delete a.height;delete a.id;delete a.swf;delete a.useEncode;delete a.width;var c=document.createElement("div");c.innerHTML=[""].join("");return c.firstChild}};f.fn[h]=function(a){var c=this.find(g).andSelf().filter(g);/string|object/.test(typeof a)&&this.each(function(){var b=f(this),d;a=typeof a==g?a:{swf:a};a.fallback=this;if(d=f[h].create(a)){b.children().remove();b.html(d)}});typeof a=="function"&&c.each(function(){var b=this;b.jsInteractionTimeoutMs=b.jsInteractionTimeoutMs||0;if(b.jsInteractionTimeoutMs<660)b.clientWidth||b.clientHeight?a.call(b):setTimeout(function(){f(b)[h](a)},b.jsInteractionTimeoutMs+66)});return c}})(jQuery,"flash",navigator.plugins["Shockwave Flash"]||window.ActiveXObject)}
Welcome
to Heike's Christmas World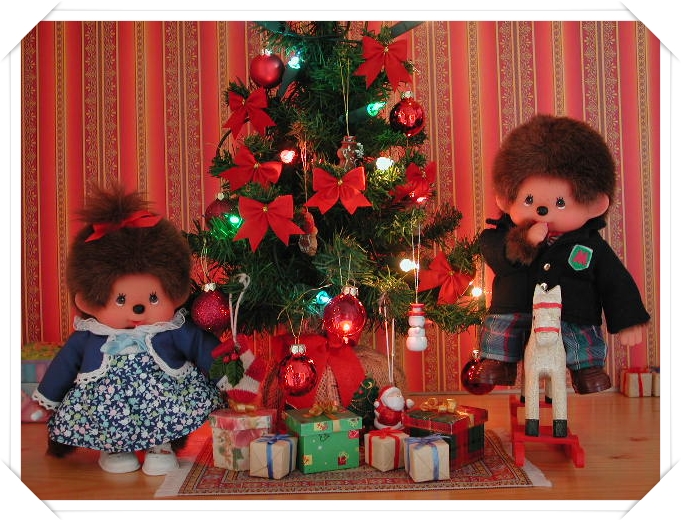 Merry christmas to everyone
in the world.
I created this christmas-page, because I like christmas
since I was a child.
My birthday is at December 20th and 4 days later Christmas happens.
I always had schoolholidays and today I try to get my vacations
during these days.

I love...
...christmassongs, like the one you listen to
... the kind of decoration at christmas
... the christmas-gifts
... the christmas-baking
... the christmas-tree
... the christmas-markets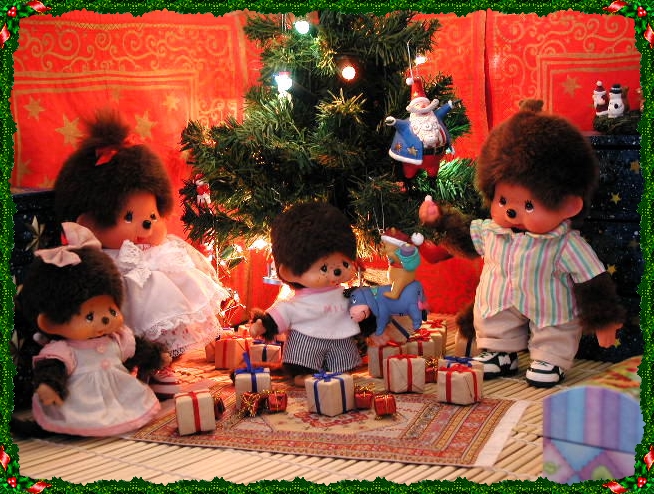 Look at my Monchhichis at Christmas, arenīt they cute?

02. Santa-chhichi on his way (animated)
05. Santa-chhichi and his horses
06. Santa-chhichi at christmas
07. Monchhichis at christmas 1
08. Monchhichis at christmas 2
10. Bebichhichi Christmas 2004
13.
Christmas with Maron 2006

Here you can see the official Monchhichi christmas collection : Santa 2000
If you want to see more Monchhichis at Heike's World of M onchhichi click the star above
Do you like the Sarah Kay pictures at this page (like the above one)?
Then you should visit Heike's Sarah Kay Collection


Iīm always happy to send and to get christmas greetings.
If you want to say hello you could send me an

.

... and I wish you all a Happy new year. Please click here


back to Heike's World of Monchhichi

Heike's World of Monchhichi / Heike's Sarah Kay Collection / Heike's Christmas World
Heike's Book List / Heike makes Art / My Person / Pen Pal / Comics / Music /

Biographies / Hot Links / E-Mail / Copyright / Japanese Earthquake 2011/

Home